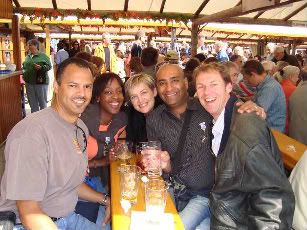 We took this photograph at the beginning of our 11-hour visit to the Dürkheimer Wurstmarkt, the world's largest wine festival.
The photograph taken at the end of the day proves we hadn't slowed just because the sun went down.
Obviously, we have a different story this morning--one that involves cold compresses and lots of black coffee. However, if anyone has a more full-proof home remedy for one helluva hangover (actually five of them), please leave it in section below. Thank you.